BAA Speaker Series – LaShawn Routé Chatmon & Micia Mosely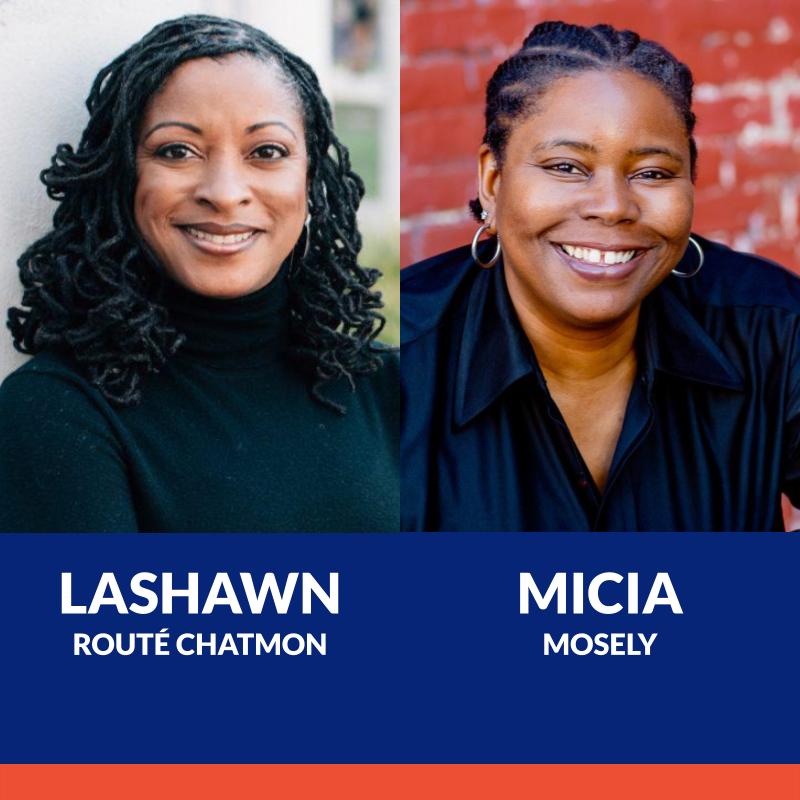 LaShawn Routé Chatmon
Executive Director
Micia Mosely
Director
Topic: "Leading with Soul"
Why they do what they do in the field of equity, what's at stake, how they lift as they climb, etc.
In case you missed it, check out the recording here.
The Cal Black Alumni Association (BAA) cordially invites you to our BAA Speaker Series event of the month, which will take place:
December 1, 2021
@
5:00 pm
–
6:00 pm
PST
We'll be joined by a very special guests and Cal Alumnae, LaShawn Routé Chatmon and Micia Mosely.
LaShawn Routé Chatmon is the founding Executive Director of the National Equity Project, leading the organization's transition from the Bay Area Coalition for Equitable Schools (BayCES). Under her leadership, the National Equity Project has become one of the leading voices in a movement to change the conversation and approach used to achieve racial equity in education. LaShawn previously served as a coach and director of the high school redesign initiative, where her team pioneered new school design processes, principal network development and site coaching that transformed educational experiences and outcomes for teachers and students in Oakland, CA.
Prior to joining the National Equity Project, LaShawn served as a teacher and leader at Redwood Day School, Alameda, CA; The Wheeler School, Providence, RI; and Berkeley High School, Berkeley, CA. While at Berkeley High, she served as Co-Director for The Diversity Project with Dr. Pedro Noguera at the University of California at Berkeley. The Diversity Project is a school-university action research project designed to address the disparity in achievement between white students and students of color and to investigate the causes of racial separation.
LaShawn is a contributing author in the book Class Dismissed: A Year in the Heart of An American High School a Glimpse into the Heart of a Nation and has presented at numerous education conferences and convenings across the country. She was a MetLife Teaching Fellow, and is currently a LeaderSpring ED Fellow. LaShawn earned a B.A. in political science from the University of California, Berkeley; a Masters of Arts in Teaching from Brown University; and an Administrative Credential from California State University, Sacramento's Urban Leadership Program. LaShawn is a California native and resides in Oakland, CA with her husband and their three sons.
Twitter: @LaShawnRChatmon
Micia Mosely is the founder and director of The Black Teacher Project, a program of The National Equity Project committed to developing a Black teaching force to transform schools into communities of liberated learning. Prior to leading this work, she was a National Training Specialist with The Posse Foundation. Mosely began her career as a high school social studies teacher before earning her Ph.D. in Education from U.C. Berkeley. She is a published researcher whose work focuses on race and professional development. Also a successful theater artist and performer, Mosely tours the nation with her socio-political stand-up comedy.
Micia has dedicated her career to helping students reach their full creative and academic potential. A teacher, analyst and product of public education, she designs custom reform strategies that help educators and administrators increase equity while maximizing school performance. Mosely brings a wealth of classroom experience to her work, infusing bold strategies with real-world approaches that understand the burdens faced by educators and administrators.
Instagram: @miciamosely