BAA Speaker Series – Tovi Scruggs-Hussein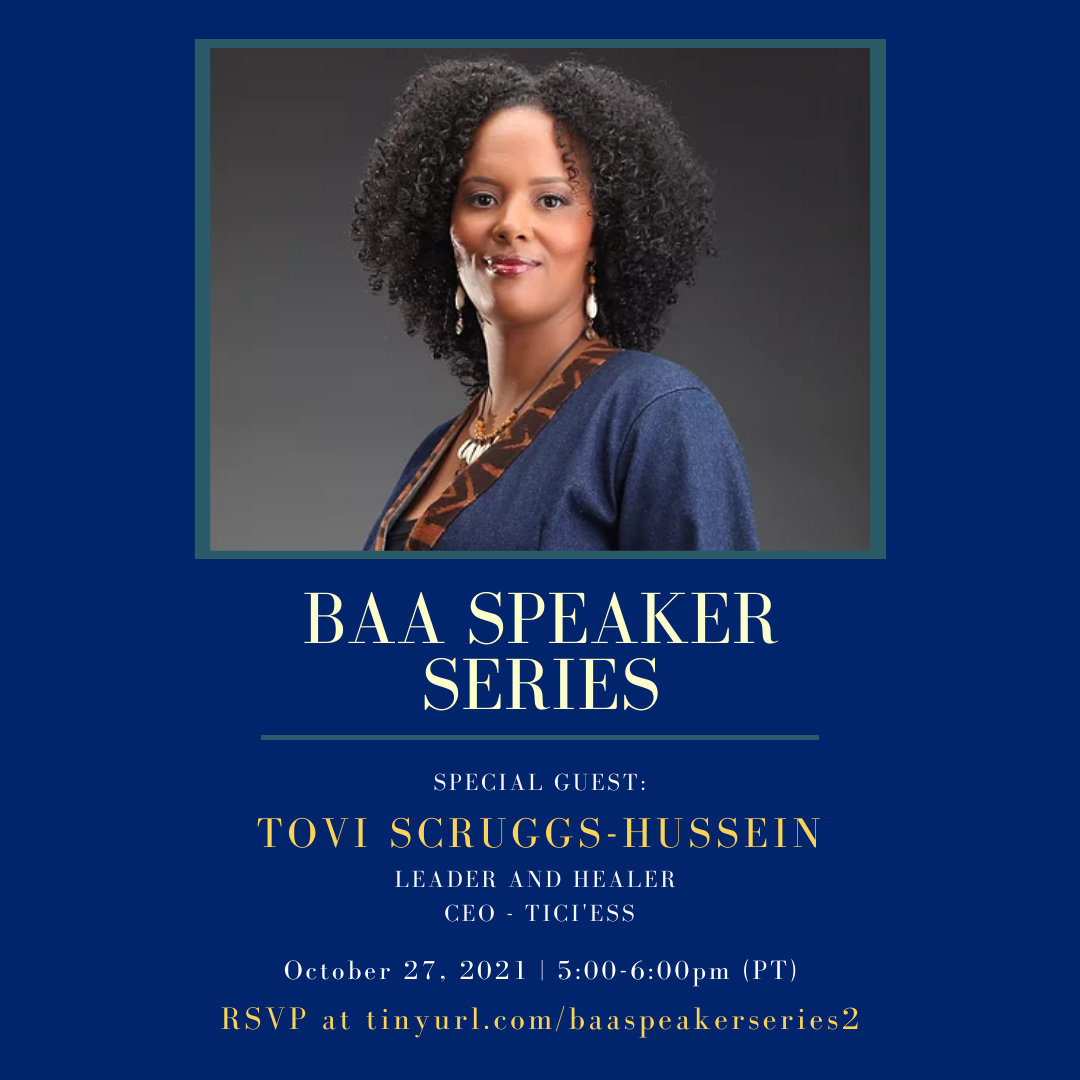 Tovi Scruggs-Hussein
Leader & Healer

Topic: "MINDFULNESS: The Why & the How"
Tovi will discuss the foundations of emotional intelligence via mindfulness in order for us to thrive and build the core skills needed for peace, balance, and optimal wellness. We will also learn why and how mindfulness can support us in reducing stress related to racism and trauma.
In case you missed it, check out the recording here.
The Cal Black Alumni Association (BAA) cordially invites you to our BAA Speaker Series event of the month, which will take place:
October 27, 2021
@
5:00 pm
–
6:00 pm
PDT
We'll be joined by a very special guest and Cal Alumna, Tovi Scruggs-Hussein.
Tovi Scruggs-Hussein a visionary, healer, and award-winning urban educator with almost 30 years of leadership and transformation experience. She is internationally recognized for her signature approach of moving from Leadership Do-ing to Leadership BE-ing and Emotionally Intelligent Equity & Inclusion. Recently, Tovi has been recognized by Mindful Magazine as one of the Powerful Women Leaders of 2021 who are igniting the world with courage and wisdom.
Tovi is a certified coach and has been personally trained by Brené Brown as a Certified Dare to Lead Facilitator to train others in courageous leadership with a lens of inclusion and belonging. Yet, the very best leadership training she ever received has been the 17 years she spent as a high school principal. She is a founding adjunct professor of Trauma-Informed Leadership with an Equity Lens at Mills College and is the National President for Coalition for Schools Educating Mindfully. She is also the visionary of Racial Healing Allies, a movement to create truly inclusive schools and organizations. Tovi cultivates conscious, connected, and courageous leaders world-wide.
To stay up-to-date with all the great work that Tovi is doing, please visit her website www.ticiess.com and follow her on instagram @Goodessatwork.